,
I recently gave a presentation at the
Forum on People Power and Poverty Reduction
(Celebrating the Silver Anniversary of EDSA 1) organized last February 23, 2011 at the Institute of Social Order (ISO), Ateneo de Manila University. This was organized by several NGOs in coordination with the Cabinet Cluster on Poverty Reduction (which is composed of secretaries of DSWD, NAPC, among departments). I gave a presentation on economic alternatives (after the one by
Freedom from Debt Coalition
President Ric Reyes on a critique of the "EDSA Economy" - check it out
here
).
I began by saying that maybe, all government interventions should go beyond the meager dream of poverty reduction and the proverbial "providing food for the table". Our generation (EDSA Babies -
Generation Y
) ought to have dreams more ambitious than that. I then proposed that the theme of an economic alternative should be,
instead of poverty reduction, prosperity
- the creation of spiraling wealth that will increase incomes, employment and productivity. We should go beyond
palliative economics
and instead address the roots of poverty.
It is with this thought in mind that I delivered my presentation:
(If it doesn't appear in your browser, try clicking the Read More link below)
The presentation was also to promote FDC's
HANEP 2020
- an alternative national economic development program that focuses on creating an equitable and just Philippine society by promoting asset reform, ecologically-sound industrialization, and technological leapfrogging. The document is in its very early stages, and is currently being refined through FDC's internal processes and consultation with sectors. You can view the draft at the end of this blog entry (a
Scribd
document).
The presentation I made, however, only focused on five out of ten aspects of the HANEP 2020 program. The five components constitute already a coherent development strategy that is in-line with our constitution and consistent with some elements of the "
Filipino First
" policy of former
President Carlos P. Garcia
: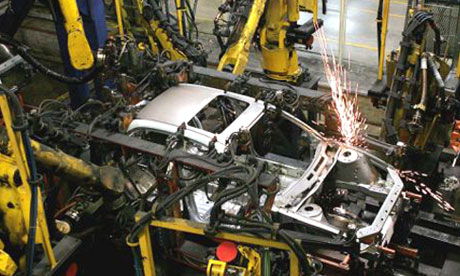 1. The government must pursue an
Industrialization Strategy
that synergistically links an integrated domestic industry that scales the entire value chain with a strengthened domestic market for demand and sustainable local economies for supply. The industrial policy must facilitate technological leapfrogging, facilitate industrial evolution (from
Original Equipment Manufacturing
, to
Original Design Manufacturing
, to
Original Brand Manufacturing
) , and eventually, create
uncontested market spaces
. All developed economies of the United States (US), United Kingdom (UK), Japan, South Korea and the rest of the Asian Tigers used such strategy. An industrial policy is necessary if the government is to aim for a
full employment policy
.
2. The government must still complete the long overdue

Land Reform

program

. Tenure instruments, which should go beyond farms and include coastal areas owned by fisher-folks and uplands managed indigenous communities, should serve the dual purpose of equity/social welfare, and

agricultural-industrial development

. Land reform that encourages

land stewardship

through institutional support must be fully implemented. Public ownership and management modes of agricultural enterprises through cooperatives must be strengthened. The Taiwan, Vietnam, and China experience should also be emulated and improved for this purpose.
3. The government must replace the

Cheap Labor Policy

with a

High Wage Labor

Policy

to induce demand and increase marginal labor productivity. Ensuring that workers are paid well, free to spend on non-basic commodities, and save for their future will thus facilitate the creation of a strong domestic market and large savings base which domestic banks can capitalize. Public goods for human development should thus be provided. The United States (US), after the Great Depression, sought to increase workers wages in order to establish a

Fordist regime

.
4. The state must recognize the intrinsic capacity of each member of society to work, through the provision of a
social wage
even for the unemployed. Aside from incentivizing the government to create jobs in order to reduce cost, this has an added benefit of ensuring that women in households, which have no formal market work, will have purchasing power – the absence of which perpetuates imbalanced relations in the household level. A
Guaranteed Minimum Income (GMI) system
– a system that goes beyond the current
Conditional Cash Transfer (CCT)
, must be implemented, filling up the difference between ones' actual wage and living wage via mechanisms.
5. The government must finally free public finance from constraints and fiscal hemorrhage by

Strategically resolving the Debt

and debt service problem

, and by accelerating the shift to a treasury policy that is biased on domestic savings rather than the global credit market. We must accelerate shift to peso borrowings, national treasury policy that is biased on domestic financing and savings. It is time to resolve the Public Sector Debt Problem and the consequent resource-gap by conducting a

comprehensive audit of foreign debts

and subsequent repudiation of illegitimate ones. Argentina's experience must be explored by the Philippine government.

-------

Check out the rest of the HANEP 2020 document below:

HANEP for 11th FDC Congress (draft) EXTRA:

You might also be interested into looking deeper on the Blue Ocean strategy, the aim of which is not to out-perform the competition in the existing industry, but to create new market space or a blue ocean, thereby making the competition irrelevant.