by James Miraflor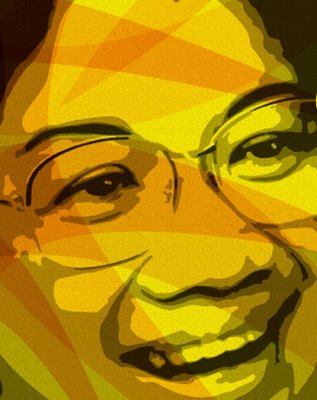 When Corazon Cojuangco Aquino died on the first day of August 2009, she as the Philippine symbol of liberal democracy did not die. Rather, she was sealed forever; and as things sealed forever, she was sealed with utmost and absolute purity of image.
This, for things sealed forever are either sealed with utmost adulation or absolute hate. For Cory, it was the former: at the day she died, everything people hated about her died with her; everything they loved about her was forever imprinted in the mantle of national memory that clothes the next generation.
Just as Ninoy's flaws had been forgotten, so will hers be. People forgot Ninoy the cunning political demagogue; the youth remembers Ninoy now as the selfless national martyr. In the same way, people may eventually forget the bloody Mendiola massacre which happened during Cory's term; but now the youth will always remember 1986 when Cory took the cudgels of power away from the strongman who denied their parents political rights.
In fact, there was already a precedent. Even Marcos' brutal rule itself was partly diluted from the minds of many Filipinos, ironically by the brutality of the post-EDSA economic situation. Now, some Filipinos dreamily stare into the Marcosian past of state-afforded economic security, for no matter how meager it had been, and in spite of the fact that it came from a dictatorship, it was a hell lot better than today's perpetual fear of poverty which hangs above their heads like a Damocles sword.
And so, what happened in the past few weeks, or even what will happen for the next few weeks, is necessarily a reinvention of Cory – for forgetting is necessarily a reinvention, and forgetting is to be done if Corazon Aquino is to forever be an immaculate symbol of a liberal democratic nation.
And this is for a very good reason. More than any other time since EDSA I, our notions of liberal democracy and even nationhood itself are threatened by predatory forces from within. We have seen how our democracy, if it can even pass as one, decayed into a rule by arbitrary power. We have seen how our economic status, then mired into debt and poverty just after Marcos, wound up two decades after into more debts and misery. We have seen Filipino nationhood, assaulted as it was by decades of exposure to Western ideals, now freely and willingly exchanged for better lives abroad.
The youth looks to our current leaders for hope; they didn't see it in them, they saw it in Cory. And thus, while her revolution happened before they were born, they flocked her internment as those who have witnessed people power did. She was the memory of hope, and hope is what we needed right now.
Now more than ever, Cory serves as a reminder of a distant but concrete dream of democratic and equitable nation, the belief of which had failed the people in their travails with the Ramos, Estrada, Arroyo, and yes, even with her own administration. They had wanted Cory to fulfill for them that dream, and inevitably she failed: she failed to complete the agrarian reform project by not being strong enough against landlord interests, she failed to break the back of the wielders of elite power by not using her revolutionary powers towards social justice ends, and she failed to free us from foreign economic bondage because she honored the illegitimate debts of Marcos regime.
But while she had failed, many Filipinos believe that she was most sincere in working for the nation, presumably stripped as she is of malicious, corrupting compulsions we commonly attribute to those in power today. And now that she died, they were reminded of what she had worked for, amid today's reality of democratic deficit, public apathy, and economic misery.
Cory Aquino had become a symbol, but not because of what she is or what she has done, but what had people wanted her to be, what people wanted her to do. The forgetting and reinvention was for a purpose, and it was for a purpose made urgent by the speed with which our concept of democratic nationhood is decaying right now. She has to be made an icon, for today is when we need icons to remind us of what we are currently losing, if we haven't completely lost it yet.
Had she died in less troubled times, I think people would have still called her name and declared her a hero, but when I saw on TV how people flocked to her funeral march in Ayala and Manila, I was informed of something more. People are crying her name in desperate desire for change, and people are declaring her a popular hero under the rule of an unpopular villain. People are ascribing meaning to her existence more than the meaning she determined by her own heroism, as if the people fear that democracy, which they have seen recently assaulted and corrupted, may die with her.
I realize then, that the best way to pay respect to the real Cory is not just to celebrate her achievements, but also to give meaning to the symbol the people ascribed to her name. The best way to immortalize Cory is to insist on a concept of democracy that is not just an amalgamation of institutions governed by rules, but an emancipatory expression of popular power.
We can begin to do so by expressing our dissent to illegitimate rules and authorities, and just like Cory, fight for the ideals of democratic nationhood. Let us complete the unfinished people power project by taking up her role as a freedom fighter in these tumultuous times.